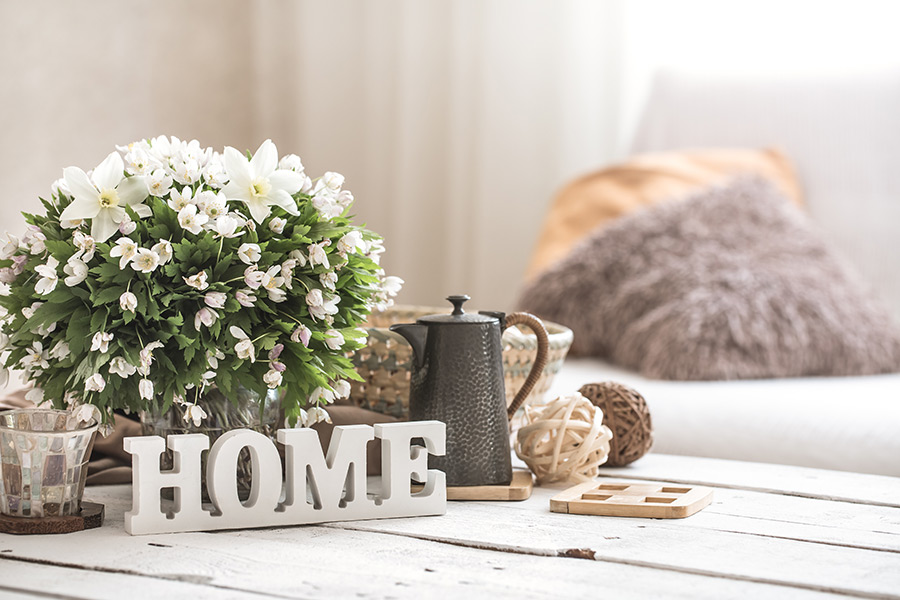 Inviting people into your home whether for a friendly visit or to purchase it, always causes some type of fear that your house may not smell the best. The odors in your house can be unpleasant and unwelcoming. No one likes to talk about household odors, but they are very common. Many people choose to eliminate unwanted odors with air fresheners, but these only mask them, rather than eliminating them. In order to eliminate unwanted odors from your home, you should start by eliminating the source rather than masking it with candles and room sprays. Here are some tips for removing unwanted odors from your home.
Identify the Source of the Odor
It is critical to locate the area where the musty odor is coming from if you notice an unpleasant odor in your home. Check places where foul smells are commonly found, such as trash cans, fridges, sinks, bathrooms, basements, and behind appliances. Some not so common culprits include mold and mildew and animal carcasses in chimneys or dryer vents.
Neutralize Foul Odors with Vinegar
Despite vinegar's strong, not-so-appealing smell, it will disappear if used to counteract other unpleasant odors. To get rid of odors from carpets, upholstery, and garbage cans, mix equal parts vinegar and water together. As an alternative, you can make an even mixture of vinegar and water and wipe down the surfaces in your refrigerator. In addition, boiling equal parts vinegar and water in a pot helps absorb any unpleasant odors that may be in the air.
Absorb Odors with Baking Soda
A bowl of baking soda can be placed in the room and let sit for a few hours to neutralize the foul odor. Place bowls of baking soda around the house to absorb foul smells and replace the bowls consistently on a weekly basis. Baking soda will absorb bad smells and will leave your home smelling fresh and clean.
Enhance the Airflow in Your Home
It is important that you get rid of the odor as quickly as possible. In order to do this, you need to open your windows and let the polluted air out. Creating a cross-breeze is an easy way to ventilate your home. By opening opposite windows in a room, you will create a wind tunnel, allowing air to enter one side and leave the other. You can also turn on a fan or an air conditioner to help circulate the air in a room to produce a cross-breeze.
After you've eliminated the odors from your house, you can begin adding your favorite scents back into your home. A simmer pot with cinnamon sticks, oranges and cloves is delightful as well as wax melters deployed with the scents of your choice throughout your home.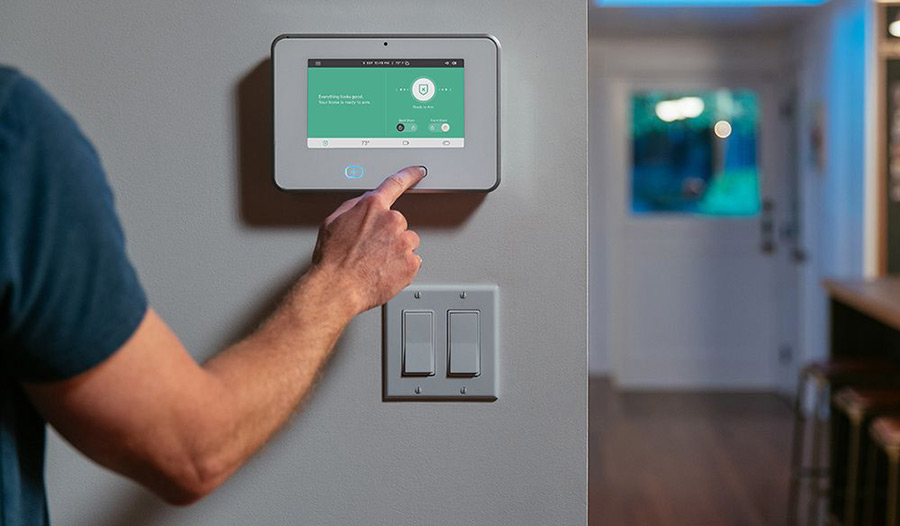 Investing in a home security system can give you peace of mind while you're away from home or asleep at night. A bonus to getting a home security system is that they serve more than one purpose. They work as crime deterrents to ward off potential intruders, they serve as early warning systems for the home's residents, and they provide helpful evidence to law enforcement if a crime does occur, so you're getting a lot of service in exchange for your hard-earned cash.
These days, a variety of security systems are available on the market but choosing the best alarm system for your home isn't as simple as going with the first option or choosing the cheapest package. From method of installation to equipment, there are many factors to consider when choosing a home security system.
Cost
You need to consider several factors when estimating the cost of a home security system: equipment costs, installation fees, activation fees, and monitoring fees. There will be a wide range of equipment prices between providers and packages. A cheap package might not always be the best deal. Finding the right fit requires balancing your budget and priorities. The activation fee is not included in all equipment costs, and almost all providers charge an installation fee if you get one that needs to be professionally installed. This can be pricey but since it's usually performed by an experienced security expert who can walk you through the process and install equipment in locations that maximize protection, you may have more peace of mind.
DIY systems aren't as time and resource heavy. These bundles will usually come pre-programmed, meaning you only need to set them up. You also won't need to worry about drilling holes in your walls because most DIY security systems also offer equipment with adhesive peel-and-stick technology.
Monitoring
Professional monitoring is offered by some providers, while DIY monitoring is only available by others. A monthly monitoring plan generally comes with several levels of protection—from the basic starter kit to more advanced options like 24/7 professional monitoring, emergency service alerts, and more.
Smart Home Integration
A few home security systems are capable of connecting with third-party smart home devices. Some of which are the Amazon Echo Studio, the Arlo Pro 4, the Google Nest Hub Max, and many more. Home automation adds a level of convenience throughout your house. It lets you fit your routine by customizing controls. For example, you can adjust your thermostat to a specific temperature each morning or arm your system with voice command.
Connection Types
If you choose professional monitoring, you'll need a connection to the control center by either landline, broadband, or cellular.
With many homes forgoing their home phone,a landline connection may not be an option for you. While this option is the least expensive, it's also the most vulnerable since someone can easily tamper with your line.
Broadband connection uses your high-speed internet. Unfortunately, your connection is lost if the power goes out. Some providers offer backup batteries to make sure that your system stays functional even if the Wi-Fi cuts out. Cellular systems use built-in chips that send alerts just like your phone, it's reliable but usually the most expensive.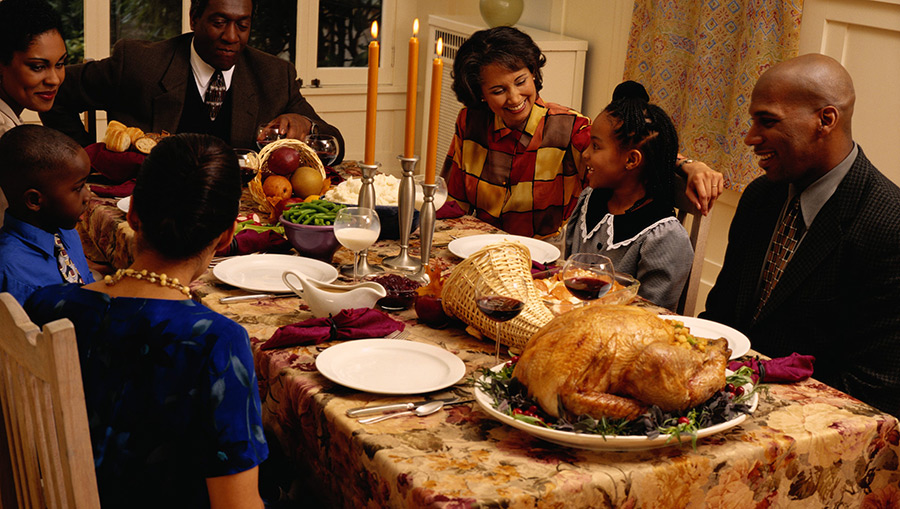 Thanksgiving is one of the most wonderful times of the year in the US – a celebration of food, family, friends, and gratitude. It was originally a harvest festival, but has grown into one of the biggest holidays in the country. We have compiled a list of interesting things to incorporate into your Thanksgiving celebration, as there's much more to do during this beautiful time of giving thanks than just eating.
Write and Share Your Most Important Gratitudes
The true meaning of Thanksgiving can be lost in all the fun and frenzy. Hand out pens and decorative paper to your guests and ask them to write what they are grateful for before they dig in. You can choose to read them aloud before you serve up dessert. Those sheets can be archived so they will be able to look back fondly on them later. Together with family and friends, Thanksgiving is a wonderful time to reflect on the year. Share something you're especially grateful for with your friends and family during the meal or later in the day. It's great to hear everyone's favorite moments and experiences from the past year.
Watch the Macy's Thanksgiving Day Parade
In New York City, thousands of people line up to watch the Macy's Thanksgiving Day Parade, which is now one of the country's most famous holiday traditions. It is known for its live musical performances, its giant iconic balloons and floats that float high above the onlookers and between the skyscrapers. If you are not in New York, you can watch the parade on Thanksgiving morning in the comfort of your own home on NBC.
Break the Wishbone to Bring Good Fortune
It is believed that if two people break the wishbone after the meal, the person with the bigger piece will have their wishes come true and have good luck for the upcoming year. The wishbone is a Y-shaped bone that carries much superstition. After the meal is finished, two people make their wishes and break the wishbone.
Get Creative with your Cooking
There is no rule that Thanksgiving must include stuffing, mashed potatoes, and cranberry sauce. Spice things up this year with something a little bit out of the ordinary by using some exciting Thanksgiving recipes by Marley Goldin. You could also substitute a holiday staple with something that honors your strong cultural ties, family-favorite recipes handed down through generations, or something new.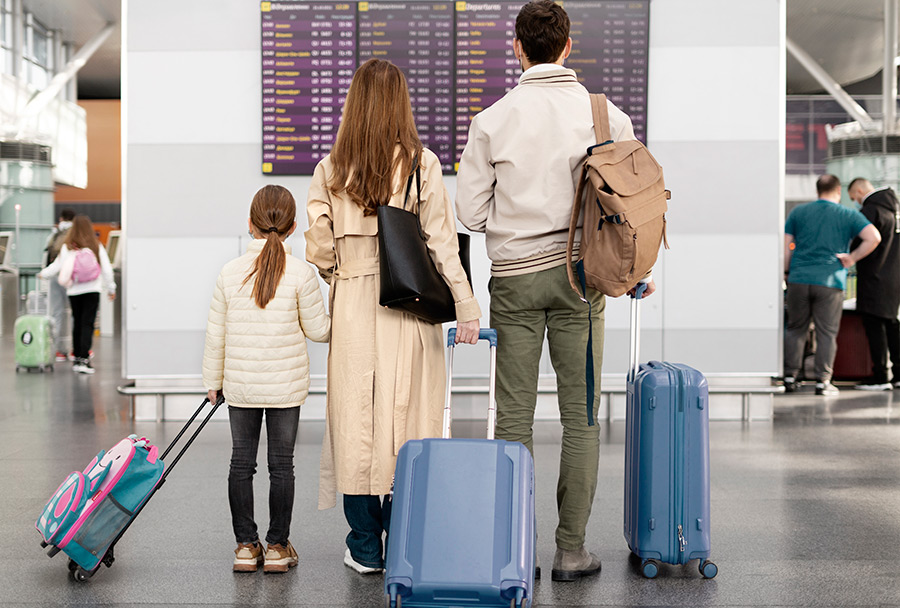 Holiday travel is here with Thanksgiving and Christmas just around the corner! During this time of year traveling can be challenging thanks to the nearly two million travelers per day jet setting during these holiday months. To help keep your sanity and to make sure you arrive at your destination and not stuck in a security line or worse. Here are some tips that will come in handy when you book your next holiday vacation.
Buy Now
The price of a plane ticket is already high and increasing by the day. So, if you're looking for the best deal on a flight for Thanksgiving or Christmas, you might want to buy now. Passenger numbers are up as more Americans look to get away after staying home the past two years because of the pandemic. With demand up, that pushes prices up.
To pay less and avoid crowds, traveling on Thanksgiving or Christmas is definitely an option. If that doesn't work for you, consider traveling several days before and after the holiday. Also, booking the earliest flight of the day helps in the event of traffic and weather delays and also allows for a less crowded airport.
Pack Light and Right
If you're flying this holiday season you may want to avoid the stress and hassle of checking your bags. Try and fit everything into a carry-on to get you through the airport quicker and to ensure your belongings get to your destination. You can always forgo packing extra toiletries that you can purchase when you arrive at your destination to free up room.
Knowing the TSA rules is a good way to avoid security delays: All liquids need to be less than 3.4 ounces and fit into one 1-quart bag (the 3-1-1 rule). Another way you can save yourself a lot of time and security-line headaches is by applying for TSA PreCheck. You'll skip the longest lines at security and get to keep your shoes, jackets, and belts on. The fee covers you for five years, and if you're a parent, your kids 12 and under can go into the FastPass line with you, too.
No Gifts, Just Snacks
If you packed any wrapped gifts, there is a good chance security will probably have to unwrap them. Plus, if you are not checking your bags, that's valuable space that you could fit an extra set of clothes in. The best ways to give gifts are to give gift cards, send your wrapped gifts beforehand by post, or if you purchased something online, have it delivered directly to them. Many online stores have a gift wrapping option.
Definitely pack a few protein bars or bags of trail mix in the event of long lines and delays. No one handles stress well or functions at their best when they are hungry. That especially goes for young kids. Take a few disposable water bottles too. You'll just have to ditch them before going through security.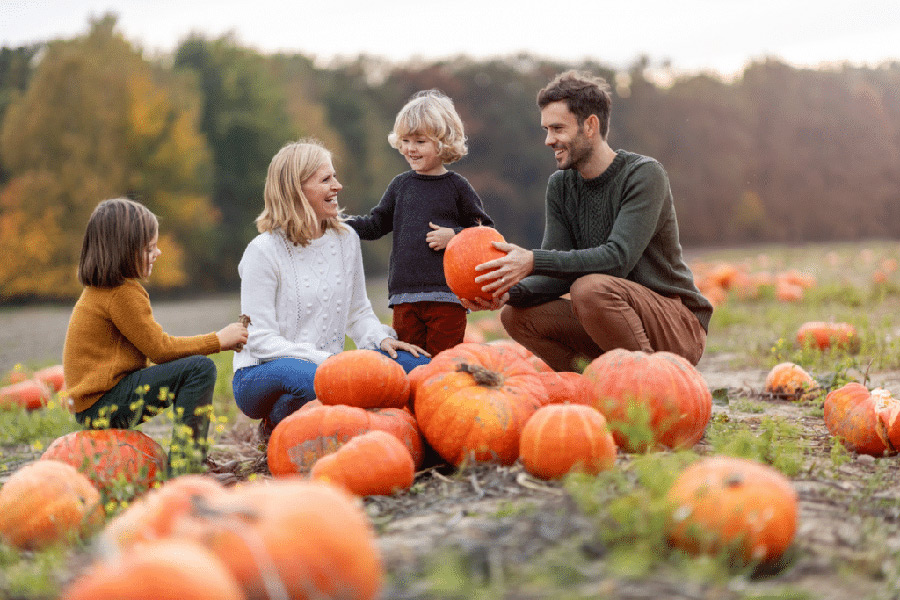 Fall is such a fun time of year. The weather starts to cool down, families can get outside and make memories together. This year especially, it's important to save more than you spend. Here are some wonderful fall traditions to do with your family that cost little to nothing.
Visit a Pumpkin Patch
One of the best things about going to a pumpkin patch is searching for that perfect pumpkin. When you buy them from a store, you have to settle for what's left on display and most of the time they're bruised or funky looking. Being outside and having the freedom to find a pumpkin that is the right size, color and shape is extremely rewarding for everyone young and old.
Walk a Corn Maze
A corn maze is the ultimate fun fall activity and most of the time they'll be hosted by pumpkin patches or local farms. Many times they have more than one maze, one for kids that are easy and a lot shorter and one for adults. Spending 20-30 minutes "lost" in the corn is fun and the kids always love the adventure.
Carve a Pumpkin
So many people just color or paint their pumpkins. This year get your hands dirty and get those kids involved in this fun activity. You don't have to carve a face, you can print out a silhouette or Cricut to cut out a fun design, make it religious or make it extra spooky! Then be sure to roast up those seeds for a tasty and healthy snack.
Boo your Neighbors
Package up some of your favorite fall treats, put them in a cute container and then share with your neighbors. It's a secret though so just leave it on their porch with instructions to "Boo" another family in the neighborhood.
Use up the Halloween Candy
Once Halloween has passed and you're stuck with a bucket full of candy, use it up in a deliciously creative way by making cookies or gooey popcorn balls chock full of pieces of candy bars and M&M's. This works very well with the "Boo" your neighbors tradition listed above.
Take a Hike
This time of year is the perfect time to get out with the family and enjoy nature. Find a trail and take in the beautiful scenery of the leaves changing. Pack a picnic and spend some time unplugged with your family.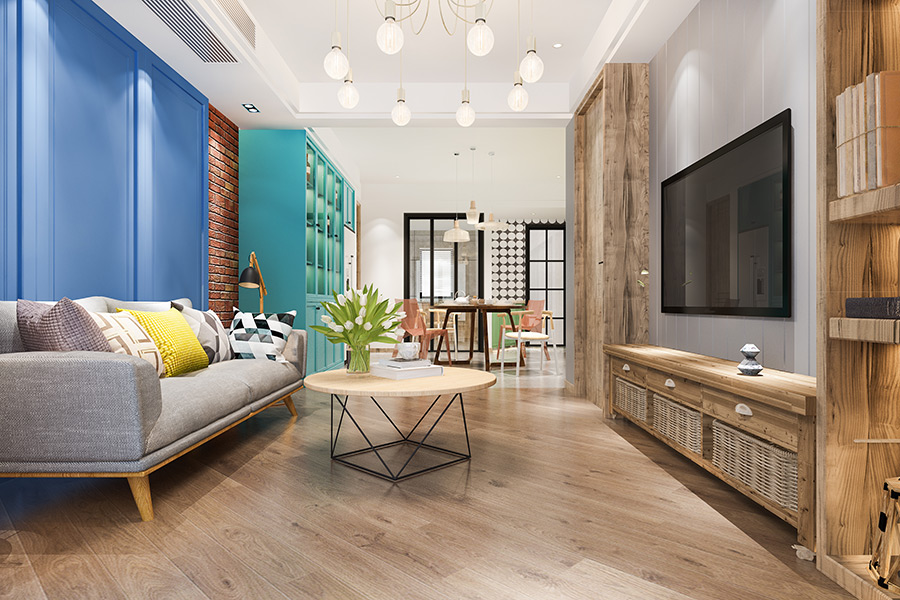 We've all been spending more time at home lately. After a while, looking at the same thing every day starts to get old. Many of us are ready for a change. Yet, with inflation hitting furniture prices of late, many people are finding it harder to decorate at a reasonable cost. Household furnishings and supplies were up 10.6% this summer compared with last, according to the consumer price index. These days, there are plenty of practical, inexpensive ways you can revamp and improve the look of your home without breaking the bank.
Change It Up
One of the best ways to spruce up a room is to change up the furniture. But you don't have to drop thousands of dollars on new furniture to improve the look of a room. Simply rearranging your furniture can give your house a fresh, new look without costing money. When you're rearranging a room, consider the focal point of the room first. This might be your TV, fireplace, or a window seat. Next, place your biggest pieces of furniture—rugs, coffee tables, and sofas—around this focal point.
You want to draw attention to the focal points, keep the seating practical, and set up a natural flow to the room. Don't forget to check the walkways. Finally, arrange lamps, smaller tables, and any accent pieces. The key to a great furniture arrangement is finding the balance between practicality and creativity. While you want your room to look new and unique, you can't sacrifice usability.
It's All In The Details
Sometimes the smallest changes in a room can make the biggest impact. And, if you're decorating on a budget, then that matters. Look around your home for the tiny details you can change. Add lighting with new lamps; you can find fun pieces at thrift stores or consignment shops. Or change up your lamp shades to change the way light flows through the room.
Upgrading faucets to fancier options, replacing small appliances, or changing out door knobs can elevate the look of your home. You can also add unique decorative pieces that will attract attention and start conversations, like vases, plants, candle holders, or figurines.
The Power Of Paint
When decorating on a budget, sometimes the answer to a fresh look is as simple as a new coat of paint. Bringing a new color or texture is an affordable way to give a room new life. Add an accent wall, or consider using different paint techniques to give a room a distinctive look. Different painting styles can even transform the look of a room. Lighter colors make walls appear higher, and dark ceilings make rooms seem wider. Also, paint isn't just reserved for walls. Turn an old, drab piece of furniture into something new and chic with a coat of chalkboard paint or a pop of fun color. The best part of painting is that you can always redo it, so don't be intimidated to try something new or bold.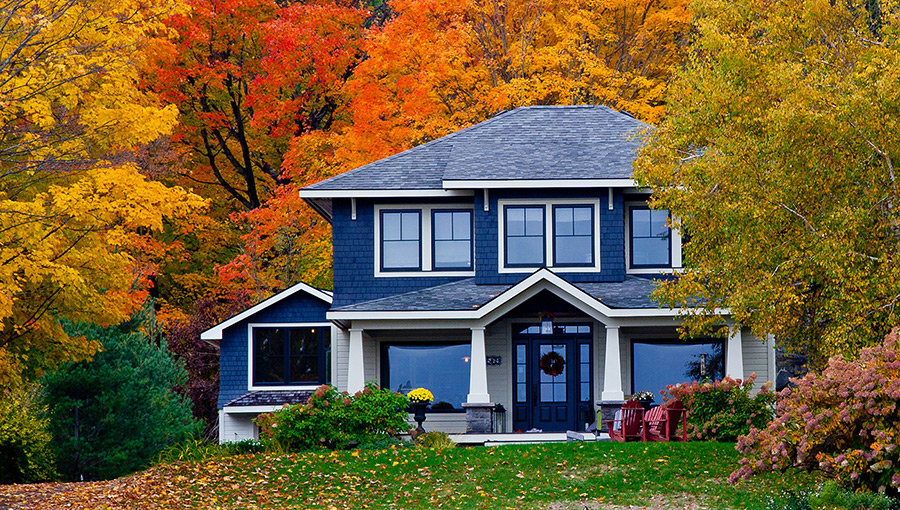 The cool months are just around the corner, so make sure your house is ready for them. At a time of year when homeowners prepare for winter, autumn can also be a great time to take advantage of the moderate weather and repair any damaged areas before the first frost. The following tips will keep your home running like a champ all winter long.
Clean Your Gutters
It is vital to keep your roof's drainage system flowing smoothly since it diverts thousands of gallons of water away from your house's exterior and foundation walls each year. If your gutters are clogged, you risk damaging your exterior surfaces and receiving unwanted water in your basement. When clogged, they are also more susceptible to rust and corrosion. Clean your gutters before the leaves fly this fall, and protect them with mesh gutter guards.
Clean Your Carpets
When it comes to carpet cleaning, fall is the ideal time. The summer days are over, but the winter days are yet to come. You'll have the best chances of drying your carpets by cracking a window or leaving doors open because of the excellent weather.You can also let a professional handle the bulky cleaning equipment if you aren't up for the task yourself.
Touch-up Exterior Paint
A touch-up can prolong the life of your siding and trim in the fall, when it is warm enough to work with exterior paint. If you plan to have any surfaces covered with snow, such as porch stairs or wood decks, it's a good idea to paint or seal them now. Something to think about with painting outdoors, paints are not recommended for application when temperatures dip below 45 to 50 degrees. So it is best to contact a local painter sooner rather than later.
Repair Walkways
Whenever the weather turns icy, damaged walkways, drives, and steps are even more of a hazard. To prevent little cracks from becoming expensive headaches, it is crucial to fix issues in the fall. Look for cracks that are more than 1/8-inch wide, uneven sections, and loose railings on steps. The majority of small jobs can be completed yourself, but large jobs should be left to professionals. Look for disintegration of asphalt or washed-out materials on loose-fill paths.
Inspect Your Roof
It is difficult to find the cause of a leaky roof once it begins to drip. Stop problems this fall before ice and winter winds turn them from annoyances to catastrophes. Using binoculars, inspect your roof from top to bottom. Look for cracks and wind damage on your ridge shingles. Check for metal flashing around vents and chimneys in valleys and around vents and chimneys for damage. Check your entire roof for missing, curled, and damaged shingles. Make sure that your gutters are flowing freely, and look for large accumulations of granules, which are a sign that your roof is losing its coating.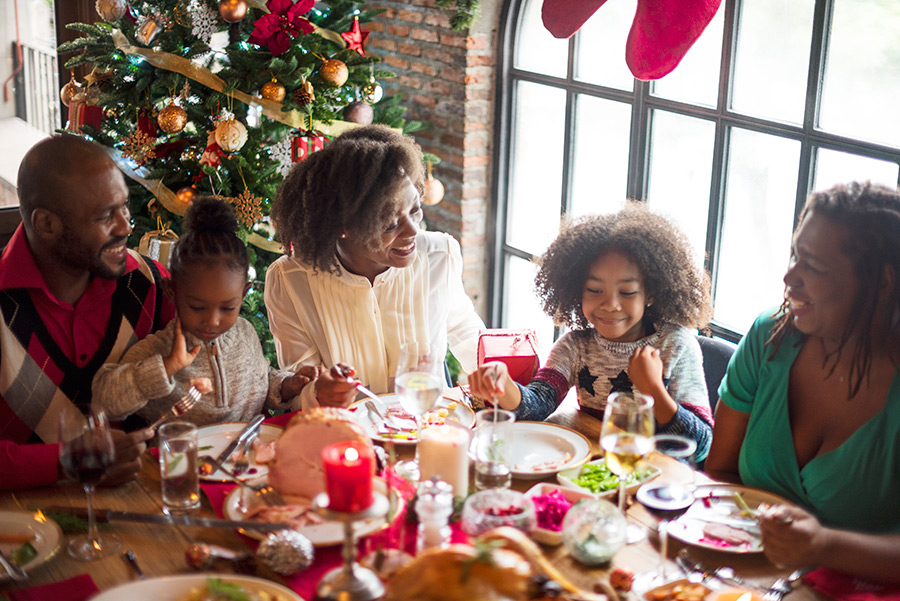 The holidays are full of high-stress moments, no matter how much you love them or how much you don't. Starting some of your holiday planning early can set you up for a season of joy, rather than spending too much, worrying too much, or doing too much. Here are 5 ways to relieve yourself from stress this winter.
Make Room For All That Is New
All of the upcoming holidays means more stuff will be brought into the home soon. Clearing out space now ensures that all the items you have will have a place to go, whether they are holiday gifts, hostess gifts, decoration or an abundance of food and drinks for your festivities. If you don't use or wear something anymore, donate it. Throw away expired or outdated items in the pantry and fridge.
Check Your Winter Clothes
There are always certain clothes that are required during the holidays. Ugly sweaters anyone? Ensure that your mitten has a twin, your ski pants still fit, and your sweaters and coats are in good condition by checking them now. You can avoid spending money replacing clothes you cannot locate at the last minute by knowing where they are located and by inspecting your winter clothes now.
Let The Planning Begin
Holiday planning ahead has its perks. From shopping lists, to gift ideas, to budgets, preparing ahead saves time and prevents you from panic shopping or booking at the last minute and overspending on items you don't need.
Creating menus and gift lists for your holiday parties and dinners now will prevent you from scrambling later. Making a list of travel needs or the stops you'll make on the family road trip will ease the tension of holiday travel. You can make changes to these lists, of course, but preparing them well in advance ensures you're making decisions thoughtfully instead of based on holiday stress.
Create DIY Gifts
It is gratifying to know when someone appreciates a handmade gift, especially when they know the time it took to create it. Now is a great time to start your homemade gifts of soaps or candles to save yourself from the stress of rushing before a gift exchange.
Take Your Holiday Photos Now
If you like to send out thoughtful letters and family photos every year to your loved ones, start prepping now. Take your photos and have them printed well in advance, and get ahead on writing your letters full of memories, updates, and events from the past year. Order your cards and stamps now, and you'll be far ahead of others who swarm the post office last minute.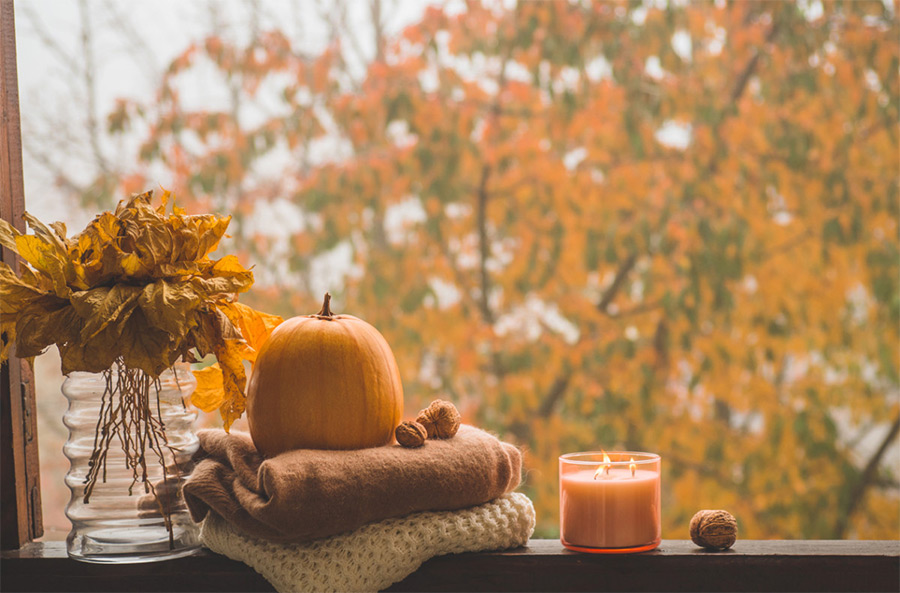 As it begins to cool down, incorporate these seasonal fragrances into your home for a boost of warmth and festive spirit. Pumpkin spice, baked apples, and warm cinnamon will all enhance the cozy, comforting feeling of fall. You can make your home smell like fall with essential oils, real fruits, and whole spices instead of scented candles and store-bought air fresheners, although they can closely replicate those classic autumn scents. It doesn't take much time to make one of these DIY fall home scents for your home to fill it with a cozy aroma.
Cinnamon
If you pick up a cinnamon broom when you go shopping, you can easily infuse your home with the scent of cinnamon. Cinnamon might be the underpinning of any scent that makes us think of autumn. Try cinnamon-scented pinecones, which also serve as scent-dispensers and decor if you'd rather something less meaningful to infuse your home with the scent of cinnamon.
Potpourri
You can make stovetop potpourri if you want a simple fragrance that lasts for hours. Apples, oranges, and cinnamon sticks are classic ingredients for a fall simmer pot, but you can also add cloves, vanilla extract, or star anise. Strips of orange peel work just as well as whole slices if you prefer to eat the fruits. The scent will be released over several hours of simmering or setting to low in a pot or slow cooker. It might be necessary to add additional water periodically as it evaporates. Be sure not to burn it. Combine the ingredients with water in an airtight container and keep it refrigerated until ready to use or give it away as gifts.
Essential Oils
The use of essential oils is a safe alternative to burning candles in your home. You can use an oil diffuser for this.For a more pronounced scent, use single oils in seasonal scents like rosemary, clove, orange, lemon, eucalyptus, oregano, cassia, frankincense, cinnamon, or ginger. Mixing oils in your diffuser will give you a more layered scent if you are feeling a little more festive.
Candles/Wax
A few fall-scented candle melts will make this plug-in candle warmer a great conversation starter, as well as a cozy light. Prepare spiced fall wax melts in your warmer using a plastic liner to protect the appliance. You may also use a slow cooker to melt soy wax pellets, then add essential oils to scent. Fill your wax warmer with your homemade fall fragrance by placing a few in an ice cube tray, then letting them cool.
Baking
You might not think that baking for the sole purpose of making your house smell good makes sense, but if you time your baking correctly, you can have a homemade treat and an absolutely amazing house as soon as your guests arrive.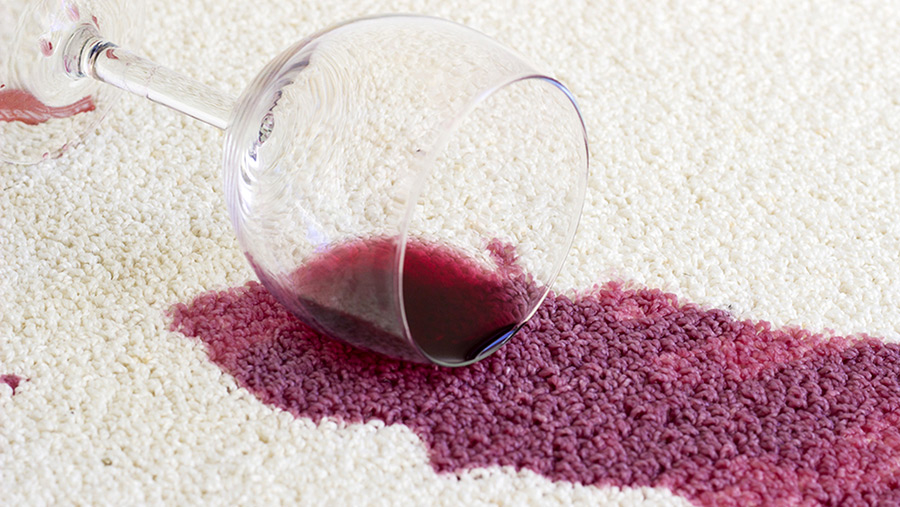 If you've lived in your home a while, you've probably stained your carpet once or twice. Sometimes you have to call in the professionals or maybe even replace the whole thing. That's not very practical to do for every small, new stain and that's where these easy cleaning solutions will save the day.
Tea/Coffee
Get coffee or tea stains out of carpet by making a mixture of 2 tablespoons of hydrogen peroxide and 1 tablespoon of dish soap. Cover the stain with the mixture and let it sit a few seconds before carefully working the solution with your fingers. Rinse the stain with cold water, blot, and repeat until it is gone.
Juice/Wine
Club soda works well for removing red wine stains, just spritz it over the blemish, wipe with a microfiber cloth, and repeat the process until the stain disappears.
Dirt
You should let mud or dirt stains dry completely before treating them. Scrape off the residue as much as you can, vacuum, then apply a detergent solution. Blot the stain with a clean white cloth or paper towel after letting the solution sit for 10 minutes.
Gum
Remove as much gum as you can. Harden the remaining gum by placing a resealable sandwich bag filled with ice on it for a few minutes. Use a dull knife or spoon to chip away any remaining gum. Vacuum and clean the stain with a dry-solvent carpet cleaner, following the label instructions.
Blood
When cleaning blood stains on carpet, avoid using warm water, as this will encourage the stain to adhere. Instead, use a mixture of cold water or club soda and some liquid dish soap, soak the area then blot with a clean cloth.
Chocolate
If the chocolate is soft or melted, place ice cubes in a resealable plastic bag on top to harden the stain. Chocolate that is solid needs to be scraped away using a butter knife or fork. Vacuum up any loose pieces and flakes. Then, working from the outside of the stain toward the center, use the dish soap mixture we recommend for cleaning tea/coffee stains. Apply it to the area and soak for five minutes, then blot until the stain disappears.
Stains With Fat
Coat fatty stains with a layer of baking soda and let it sit for six hours. Blot with a cloth dampened with rubbing alcohol, then vacuum the blotted area. If you wish, you may also use a dry-solvent spot carpet cleaner.
Candle Wax
You can remove candle wax from carpets by rubbing an ice pack onto the wax until it hardens. After breaking up the wax, vacuum up the pieces. You can also apply a white cloth dampened with rubbing alcohol to the spot or treat it with a carpet cleaner based on the manufacturer's instructions. Blot the area until it is dry.