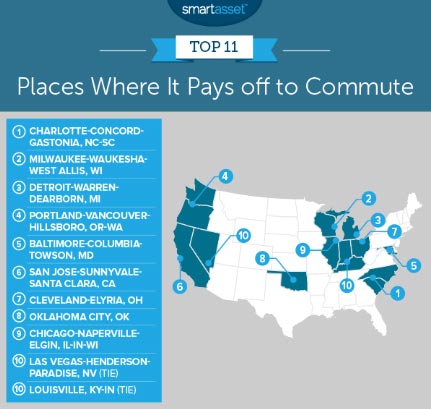 Many homebuyers face a tough decision: To live in the city or commute from the suburbs. In some city centers, the cost of living is actually not as high as the outlying metro area, while in other cities homeowners will find more purchasing power in the metro area.
SmartAsset, a personal financing resource, broke down the costs of commutes near major hubs to find the areas where it pays off the most to commute. The survey compared metro areas across five factors: the difference in housing costs, commute times, property taxes, home value change, and the odds of a long commute.
Researchers found that Midwest commuters tended to fare the best. Four of the top 10 metro areas are in the Midwest. Residents in the outer metro areas tend to find lower property tax rates and faster rising home values.
But commuting isn't always affordable in some locales. The average housing cost in many metro areas is actually more expensive than in their principal cities, according to the study. In Baltimore, for example, the cost of housing is about $330 more expensive in the metro area compared to the city. (Note: The study did not control for the size of homes. "It is possible that residents living outside of principal cities pay less per square foot for housing but also live in larger homes," researchers note.)