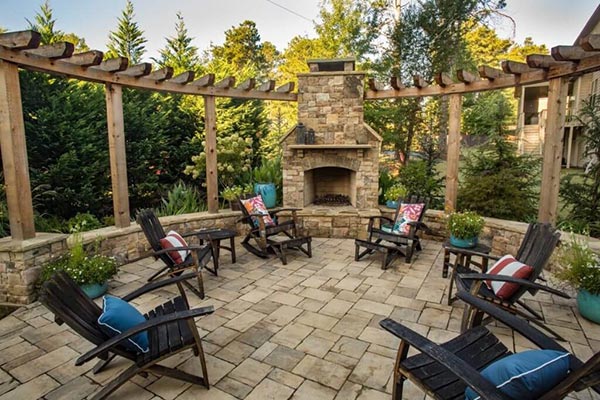 Chip Wade of HGTV and the DIYNetwork is known for such shows as "Designed to Sell," "Curb Appeal" and "Elbow Room." He's also a Liberty Mutual Consultant – and a new survey from Liberty Mutual revealed that for 52% of consumers who completed a DIY project, saving money was the number one objective. With all this in mind, he offered some simple DIY ways to transform your backyard into an outdoor haven on a budget.
Think about layout
Some homeowners get carried away and want to create multiple backyard spaces, but Wade advises against this approach. "For most clients, I actually encourage them to look at smaller outdoor living setups that are close to the house structure, rather than making multiple destination areas."  He also believes that this will help you concentrate more of your budget in one place.
The first and most important step is to think about your main goal in creating your outdoor oasis; Wade says that planning ahead will make the final design more effective. "If you're an entertainer and plan to host large parties, the layout might be different than if it's just for the family to eat outside or watch the sunset once in a while."
Start small
If this is your first DIY project, don't bite off more than you can chew. Start simple. "Doing something as small as changing up the trellis could change the look of your deck drastically," Wade says. "Or, you can use the trellis to hook on a swing and bring your seating up off the ground." Off-ground seating facilitates easier cleanup and makes the space feel airy.
Wade recommends keeping it simple with plants as well. "Start with the hardscape, then work on creating very focused areas," he says. "It forces the eye exactly where you want it." He recommends creating a few landscape beds using focused colors. "Minimize maintenance, and make clearly defined paths from one feature location to the next."
Keep exterior limitations in mind
Regarding exterior light, Wade believes that an overhead structure is your best bet, but there have been advancements in low-voltage backyard options. "My recent projects have included LED lights — safe, bright and long-lasting. Put lawn lights around the focal features of the yard, for example, or light up a water feature."
Because this is your outdoor haven, you also want to be comfortable even among the elements. "Consider adding a cooling feature to beat the heat," Wade says. "If you have an irrigation system, you could add a perimeter misting wall around your hardscape patio." And, since some of these systems spray a fine mist that reaches up to eight feet, this can also act as a barrier for mosquitos.
Consider a low-maintenance hardscape patio
An easy project to transform your backyard is a hardscape patio. A hardscape patio provides immediate functionality, and you can avoid having a maintenance-intensive backyard. Or, as Wade says: "Less grass to mow, fewer flowers to maintain."
However, if you've never done something like this before, he recommends that you do your research. While it's definitely a project that homeowners can tackle themselves, using the right materials is crucial. A gravel patio, one of the easiest options, adds texture and interest to your backyard. There are several types of decorative gravel to choose from, including quartzite and pea pebbles, with colors from gold to gray to black to white. If you opt for flagstone instead, make sure it's at least two inches thick so it won't crack. 
Plan ahead to avoid DIY disasters
To avoid DIY fails, it's a good idea to start collecting ideas and inspiration a year in advance. "You do not need that much time," Wade says,  "but a good design can take up to eight weeks to create, and it's important to consider that to get a realistic time frame."
It's also crucial to check with your insurance company before you begin to transform your backyard, especially if you're doing a major renovation. "If you've added a section to your home that increases its value, be sure to ask your rep if you need more insurance coverage to protect your investment."
Know when to call a professional
However, even with the best intentions, some projects may ultimately require a professional. The Liberty Mutual Insurance survey revealed that 32% of DIY homeowners experience a DIY fail. "Unless you are 100% confident you can safely complete the project, I recommend hiring a professional," Wade says. "There are many maintenance tasks that I call DDIY: don't do it yourself."
He puts roofing in this category, saying, "Unless you are certified, you should never get on the roof." Other important tasks that should be left to the pros: electrical or gas projects, toxic material removal and plumbing.
"Give yourself enough breathing room so the process does not feel rushed and you have enough time to think about how changes affect your entire project," Wade advises. "In the warmer months, professionals often book out far in advance."